Links
Not much here right now. A new links system will appear eventually.
I earn some fake money for every click on this banner!

SatireWire
- No longer updating. Sadly missed.
I Am...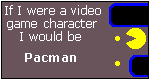 I am Pacman.

I am an aggressive sort of personality, out to get what I can, when I can. I prefer to avoid confrontation, but sometimes when it's called for, I can be a powerful character. I tend to be afflicted with munchies constantly. What Video Game Character Are You?
You scored as atheism. You are... an atheist, though you probably already knew this. Also, you probably have several people praying daily for your soul. Instead of simply being "nonreligious," atheists strongly believe in the lack of existence of a higher being, or God.



| | | |
| --- | --- | --- |
| atheism | | 75% |
| Buddhism | | 67% |
| agnosticism | | 54% |
| Islam | | 50% |
| Judaism | | 38% |
| Paganism | | 38% |
| Christianity | | 25% |
| Satanism | | 13% |
| Hinduism | | 0% |


Which religion is the right one for you? (new version)
created with QuizFarm.com
Some results for "Kirun" on Google that are also me
See also the people who've linked in
---
Googlebomb Corner
Miserable Failure
Herbalife - the Nº. 1 work from home scam
HTTP